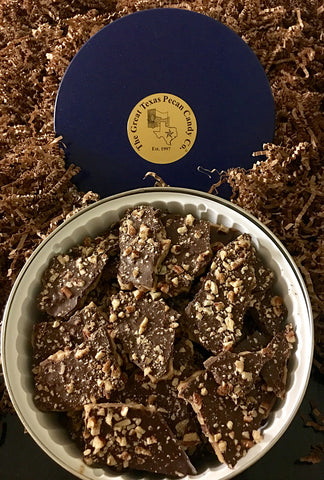 32 oz. Pecan Candy
You have been asking for something larger and here it is!  Two pounds of your favorite flavor packed in our signature blue tin.
Flavor Options
Pecan Roca: Rich, buttery toffee-type. Our best seller.
Pecan Beer Nuts: A little sweet, with a touch of salt.
Pecan Brittle: Yummy, buttery, crunchy!
Chocolate 'N Pecans: Rich chocolate with lots of pecans.
Candied Pecans: Praline flavored pecan halves.
Lone Star Crunch: Rich chocolate and pecan beer nuts.
West Texas Fire: Texas Pecan halves with a hot spicy zing!
South Texas Salties: Texas Pecan halves with salt, butter and a touch a cinnamon.
Peppermint Smoothie: No Pecans. White bark, with crunchy peppermint.
---