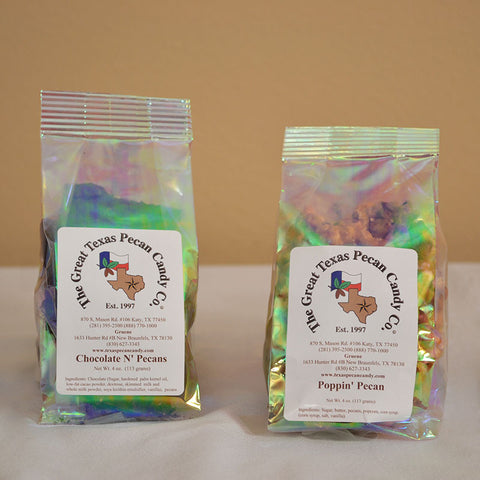 4 oz. Pecan Candy
Filled with your choice of any flavor.
Flavor Options
Pecan Roca: Rich, buttery toffee-type. Our best seller.
Pecan Beer Nuts: A little sweet, with a touch of salt.
Pecan Brittle: Yummy, buttery, crunchy!
Chocolate 'N Pecans: Rich chocolate with lots of pecans.
Candied Pecans: Praline flavored pecan halves.
Lone Star Crunch: Rich chocolate and pecan beer nuts.
West Texas Fire: Texas Pecan halves with a hot spicy zing!
South Texas Salties: Texas Pecan halves with salt, butter and a touch a cinnamon.
Peppermint Smoothie: No Pecans. White bark, with crunchy peppermint.
Poppin' Pecan: Popcorn, pecans and a rich brittle topping.
---